Organizations rely on technology solutions to help mitigate compliance risks in an ever-evolving global business world. Yet, often the tools designed to help end up creating even more problems. Some technology solutions today don't address the common problem of false positives due to common names. Others use scoring systems that provide no meaningful information.

We created KLINKsmart, an enhanced risk-based due diligence portal that screens, manages, analyzes, reports and tracks third-party activity, to allow compliance professionals to simply and effectively manage third-parties. The portal is fully customizable, making it the smart choice for meeting your organization's due diligence and compliance requirements. KLINKsmart is easy-to-use, cost-effective, and, most importantly, delivers accurate information.

The portal is not just an effective technology tool; it is also an integrated solution backed by a team of compliance and research experts with over 150 years of experience. KLINKsmart eliminates hours of wasted time by removing false positives, duplicates and inaccurate information provided by others.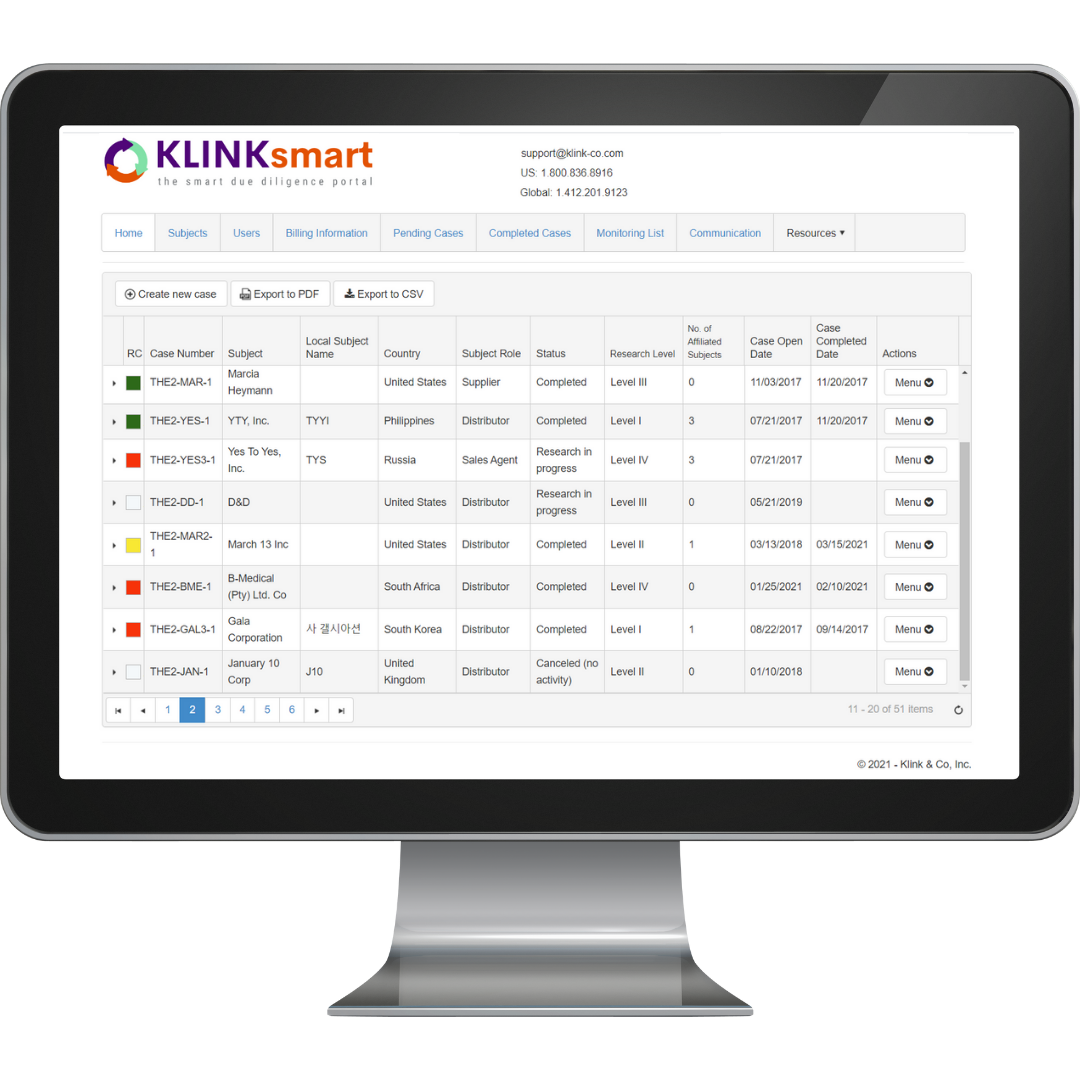 KLINKsmart produces high-quality reports by combining traditional database research and hands-on analysis. We never provide raw data, but instead analyze information to remove false positives and duplications. Our process clearly identifies and communicates red flags and adverse information.
Organizations may use ten to thousands of third-parties located around the globe. The process of managing those relationships can be costly, complicated, and cumbersome. KLINKsmart simplifies third-party management. Users will have unlimited access to our team of compliance experts; including former federal prosecutors, chiefs of compliance, university faculty, and former FBI agents. The team is here to advise you. That means there are no hidden fees and additional costs when it comes to helping you understand how to avoid criminal prosecutions, regulatory actions, and costly litigation.
Our compliance professionals are ready to assist. Contact us for a demonstration of the KLINKsmart portal.