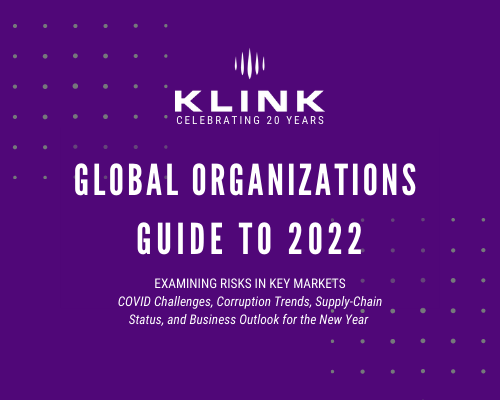 INTRODUCTION
The global KLINK team has analyzed multiple issues present in key global markets regarding Covid, supply-chain, corruption trends, and the likely challenges that lie ahead for global businesses. We have broken these markets of interest down by country or by region, including Africa, Asia-Pacific/China/HK, Europe, Latin and South America, Russia, and the Middle East. In sum, common problems that existed last year still are damaging economies and governments in early 2022, include a dramatic rise in fraud impacting both government and commerce, due to, among other things, Covid, and lockdowns continuing in some nations, including in China. Bribe-taking is clearly on the rise, and fraud has becoming more common in most regions, an unwelcome consequence of the virus which has killed over 5 million worldwide.
In our review, we focused on assessing how Covid is impacting supply-chain, fraud trends, corruption and bribery, and our ability to access information for due diligence purposes. As you will see, some countries like Singapore, have not really been that relatively hard hit by the virus, while others have suffered serious harm. We offer the following analysis not as a health advisory, that is out of our pay grade, but as consultants offering a way forward through this virus and the resulting chaos.
Fraud
Entering 2022, we are still seeing massive PPE fraud schemes and other similar governance challenges. The bad guys, much like in a time of war, pounced when the pandemic became the central theme of life, and are still winning those wars. Poor preparation by governments resulted in disastrous policies (free money schemes to combat the virus), and Covid and its magnitude were never truly addressed capably by policymakers. In short, it has become abundantly clear that governments failed miserably in managing Covid as a virus but also as a cause of economic uproar.
Around the world, it's simple why fraud is running rampant. Fraud occurs when there is no due diligence, limited internal controls, and when monies are not carefully monitored, making Covid a perfect opportunity for the creative fraudster. Just as it's much easier to steal from a successful business rather than a struggling business, it's easier to steal from the government and related agencies when little thought has been given to how to monitor massive outflows of cash. It is easy to steal money via shell companies and one day old wonders (businesses formed in one day for the purpose of stealing on the next day). Fraud and confusion are still part of the equation as we head into 2022, however, we see a strong possibility of a significant rebound from Covid in the next several months.
Corruption
We have found that corruption and bribery have gotten worse in government but also in the private sectors. Vendor fraud schemes are flourishing, in part, due to poor internal controls made worse by the pandemic. Supply-chain is recovering, albeit slowly, and may take all of 2022, if not longer, to materially improve.
As way of reference, the United States has experienced by far the highest number of deaths due to Covid, followed by Brazil and India. China, for its size, has done remarkably well in mitigating Covid, however, its lockdown strategies have negatively impacted both its economy and the morale of its populace, not to mention global supply-chain.
Transparency
On the plus side, many government agencies have developed digital solutions that have improved transparency in the ability to assess companies and individuals in due diligence projects. But transparency is in jeopardy due to governments (China, Turkey, among others) using privacy as a ruse to protect kleptocrats and autocrats. The rampant global use of shell companies is fueling fraud everywhere as well.
Our team of risk analysts located around the globe and in the U.S. have found the following that might be useful for your teams as they plan for 2022 and beyond. We of course, are available to discuss any concerns our valued clients might have about any of these issues.
AFRICA
In many African countries, corruption perception indices shot up last year. There were worrying levels and lack of accountability in the veil of emergency procurement necessitated by the pandemic. What is occurring is that approved in advance financial budgets are being shelved in favor of unplanned for emergency procurement. In many African countries, billions of dollars have been paid out to brand new companies that were affiliated to cronies in and related to government. Of course, the monies spent, and these organizations have disappeared. The road ahead might be bleak when the Covid pandemic naturally recedes and all those funds that are needed will be unavailable to fix roads, build hospitals, and provide services.
On the continent, cronyism has occurred in the supply of masks and other related PPEs, and dozens of "Covid Billionaires" have been created in Africa. When the media or public have complained of increased fraud, parliamentarians across the continent have ignored the pleas and done nothing. This has resulted in not only the creation of overnight billionaires but also the destruction of hundreds of smaller and medium enterprises that never recovered from Covid.
Covid remains a significant challenge in Africa. Roughly, 15% of citizens on the continent are vaccinated.
In South Africa, as one representative example in Africa, many people lost jobs, businesses, and other income due to Covid and shutdowns. We have seen a broad increase in criminal activities in South Africa, although the government appear to be playing that down/under reporting. In June/July 2021 in SA there were riots, looting and destruction in certain areas, partly driven by political factors – such as the on-going attempted criminal prosecution of former President Zuma and some of his associates. In these riots, over 300 people lost their lives. There was also protective and medical equipment purchased on government contracts at hugely inflated prices, which seems to have happened on every continent and with every government around the world. This is of course more significant considering that South Africa is an economically fragile nation like South Africa which has no big reserves in hand compared to other nations its' size.
In South Africa, there was also a restrictive 'Protection of Private Information' ("PoPI") Act (or "PoPIA") that came into effect in 2021. There are exemptions for consulting and investigation firm engaged in fraud matters. AFAIK, the act, has not been tested in Court.
Supply-chain remains a challenge throughout Africa, and we recommend that business plans include the possibility of long delays. Economic opportunities should rebound in Africa, and around the world, by mid-2022, but it will take longer for supply chains to fully mend.
EUROPE
Most key European countries, like most of the developed world, have been whipsawed by Covid. Vaccination rates exceed 71%, however, in the U.K., and generally, except for rural Europe. Lockdowns, however, continue to plague economies, resulting in a host of negative economic harm, including supply-chain disruptions, dislocated labor markets, and uncertainty, the last of which is tough for business strategists.
Countries in the E.U. have opened and closed multiple times. Various abatement strategies for Covid have failed miserably, including in the E.U., the U.K. and in other markets. Covid has created an unhealthy environment, allowing autocrats to gain additional power under the guise of managing risk for their people, and especially in Turkey and Belarus and Poland.
Corruption and bribery are on the rise due to Covid and easy government monies flowing to questionable parties, as is occurring in Africa.
In Italy, for now, most government agencies are doing business as usual, however, and long delays for getting information and goods are not anticipated at this point. In Spain - currently all agencies are operating. During prior lockdowns, some agencies (mainly registries) in Spain closed and others provided information with significant delays. On-line information still been available as usual in both Spain and Italy.
The Italian government has recently launched a nationwide "anagrafe" system that allows access to certain citizenship records (e.g. standard residence certificate) online instead of communicating with single cities via snail mail or in person. In order to access that system, we utilize a double authentication and second level digital signature as required.
As a general concept, it has become more difficult to gather information for due diligence in the E.U. due to a combination of privacy regulations and the virus.
Finally, the Czech Republic and Poland have been especially hard hit by Covid, and business activities are far from normal as we enter 2022. Expect delays in most anything you do in these countries.
CHINA | HONG KONG
China HK – As China continues with a severe and unforgiving lockdown strategy, there have been delays in obtaining information from governments in recent weeks due to Covid. Plan accordingly for likely delays in doing due diligence. These delays are affecting not only government agencies, but also factories and industrial sectors where employees cannot legally travel to work due to lockdowns.
Impacted by "2019's riot" in Hong Kong, as claimed by the Chinese government, a new policy was implemented for accessing the Companies Registry (a critical resource) for records' due diligence research. In the new policy, any searcher is needed to provide full name and ID number along with justified reason in order to access to the system for corporate records/directorship search. Aim is to protect the personal data of the company officers/shareholders retrieved from the system. Owing to the requirement, we access to the search only for due diligence purposes as we strictly follow the legal requirements set forth by the government.
ASIA PACIFIC
Access to information and goods and services in Singapore has not been much impacted during Covid as it has for a long time been increasingly an effective, transparent digital government.
We have encountered challenges in other locations in getting information, particularly in the Philippines, where the President is threatening the unvaccinated (he likes to make threats for lots of things); Malaysia; and Indonesia, but these are all back on line the past six months (mostly) There are no face to face visits available in any location in Asia other than low tech locations like Cambodia.
In South Korea, the government reduced supply-chain delays and avoided lockdowns and other measures that negatively impacted economic conditions. Additionally, on January 13, 2022, it was announced that the Pfizer pill designed to mitigate Covid symptoms had arrived.
In Singapore, and throughout Asia, we have seen an uptick in fraud and corruption around procurement, and particularly government corruption and vendor fraud in the region. What also found was an increase in detection of longer-term fraud and corruption schemes, many of which had been in place before Covid started and were brought to the surface by the economic stresses on businesses due to Covid. In Singapore, we have seen an uptick in scams both locally and offshore through sms/WhatsApp/Viber.
Police in Singapore have published quite a few updates on the millions of dollars that Singaporeans have been scammed out of during Covid. Local supply chains have mostly been unaffected with Singapore focusing on keeping the economy moving. There are some small issues in Singapore mostly due to lack of containers but that is more due to a drop in shipping volume. From our office, we can see that the number of bunkered local freighters has been static for about one year now and there are about three times more static container ships than seen in previous years.
Clients in the region are saying that supply-chain is improving in the Asia region.
In India, the pandemic has brought about a rise in corruption and fraud related to smaller dollar loopholes. A good example of this would be that in the first wave, many domestic and international travelers were required to be immediately sent to a quarantine facility straight from the airport. Officials working at the Mumbai airport were taking bribes to let the people avoid quarantining. Petty crimes have also been on a rise throughout the country since the start of the first lockdown. Fraudulent practices around the vaccination were also rampant. Several cases of administering a "fake" vaccine as well as forgery of certificates to the unvaccinated have surfaced in the last year.
There are lockdowns in place in India where slightly less than half the population is believed to be vaccinated. In India, there have been ongoing delays in getting information due to lockdowns and other steps the federal and state governments have taken to curtail the spread of Covid. One effective move for the government was setting up the Aarogya Setu application – a mobile application which was made mandatory for all citizens to download. This app provides details of the number of Covid cases around each person, whether one has come into contact with a Covid positive patient, accessible medical aid, and vaccination status. Additionally, Indian government agencies have done their best to ensure that the vaccine roll out reaches as many people as possible, even in the most remote parts.
The Indian railways are playing a helpful part in ensuring movement of goods across the country. Opening of lockdowns has helped in stabilizing the domestic supply chain, however, some industries that depend on inputs from overseas continue to have problems regarding getting supplies of raw materials.
In India in the past year, most government proceedings were delayed or moved to video conferencing. Therefore, in a country with a completely dysfunctional judicial system, gaining information about litigation matters and other regulatory proceedings was and is also still delayed. Access to some services were disrupted due to glitches in systems. In India, the second largest global country by population, Covid has made this corrupt nation even worse, and political instability has even gotten worse, with the majority in the population targeting the minority with violence and discrimination. India is in a bad place.
India public record changes:
On the ITAT (Income Tax Appellate Tribunal) website, the option to search for a subject's records by their name has been disabled.
On the NCLT (National Company Law Tribunal) website, searching for subjects has become easier because of a more organized archive section.
In Malaysia, the government has restricted public access to corporate and individual information, which reflects the increasing corruption in that country.
Supply chain challenges in Asia have been on the rise, due to the pandemic lockdowns and a global shortage of freighters and containers. The rise in freight costs has been reflected in Consumer Price Indexes rising in the region. Domestic supply woes, however, across the region, have eased, and locals are getting more goods and services than during the early parts of 2021.
In Australia, see the Novak Djokovic debacle, chaos seems to be the order of the Covid day. Lockdowns, confusion, anger, seem to be mild descriptions of what's happening in the former penal colony turned ritzy destination. Australia has been a leader in enacting lockdowns, while recent Covid numbers have skyrocketed. Delays, confusion, mark the current state in Australia. Government records continue, however, to be widely available, while in-person activities are almost non-existent. Stay tuned.
In Indonesia, a country with an ever-expanding population due to limited birth control and government dysfunction, Covid has, however, not gotten worse, but rather, better, due to an increase in vaccine supplies, and a surprising government management of the virus. Supply-chain reports from the country are that things are improving.
MIDDLE EAST
Some government agencies faced total closure in Bahrain in the summer of 2021 but now they are working normally. The ministry of finance in Lebanon, and agencies in other states, are working partially with very limited access to services and sometimes only by appointment.
Generally, in the Middle East, vaccination rates are high, and transmission rates have trailed other nations and regions. Information is still hard to come by, but primarily because there is a great deal less transparency in public records' offerings in the region. The Middle East is simply a place where transparency is limited at best. This serves the powerful and wealthy's purposes.
Israel has taken a different tack with Covid than other nations, avoiding lockdowns, aggressively vaccinating citizens (it now is offering a fourth booster shot), and stressing the continuation of everyday life. As of the first days of January 2022, Israel is getting hit hard by the Omicron variant, but few deaths are occurring.
The U.A.E. has the highest rate of vaccination and a low number of Covid cases as a result.
Saudi Arabia has recorded in January 2022 a high number of positive tests for Covid that exceed earlier numbers, causing a great deal of anguish in the Kingdom regarding business activities.
RUSSIA
Access to public record changes happen quite often in this country, depending upon the whims of President Putin and his Oligarchs, who hold the nation and surrounding states hostage with frequent distractions and threats designed to distract. Usually, changes occur due to what are claimed to be privacy concerns.
Russian companies and consumers face extreme challenges with supply chain issues. As Russia is quite big in terms of its mass, this is especially relevant for distant regions, but also an issue in larger, more populated places. One of the most adverse outcomes in Russia (and of course this is a global shortage) regarding this crisis is the deficit of semiconductors which severely crunched the markets regarding vehicles, and electronics, which in turn harmed dependent/associated markets. Semiconductors will continue to be in short supply during 2022 in Russia and beyond.
Finally, the Russia v. Ukraine crisis appears to be continuing for at least the near term. Russia, with its foray into Kazakhstan recently, its propping up of the Belarusian autocrat, and its ability to distract from domestic challenges, including a struggling economy and kleptocracy, through adventurism, will continue to be a difficult place to justifying doing business. The risks never seem to go away there, and we recommend that organizations consider whether the upsides are worth the obvious downsides in Russia.
LATIN & SOUTH AMERICA
Throughout the region there have been substantial delays in getting information from governments in Latin and South America. This will continue, and the major drawback is that on-line information is available but is not comprehensive. We are experiencing longer delays in our due diligence practice South America and Latin America than anywhere else.
Peru has been devastated by Covid and continues to function poorly as a state. Mexico, due to lack of Covid strategies, among other reasons, has had an especially high rate of the virus, causing supply-chain delays. Mexico is a key partner of the United States, and its' problems have negatively impacted the entire global economy. Violence and fraud have also surged during the Covid era in Mexico with no end in sight.
Chile, with a new government and constitution, seems to be weathering Covid better than most nations in the region, and is returning to a closer version of normal than 2021 and earlier.
The good thing is that some countries in the region have higher rates of vaccination and/or Covid strategies that are working, which will lead to improved supply-chain and a better economy in 2022 in the region.
In some countries in LA/SA, there has been a positive increase in terms of digitalization of information, making due diligence easier and resulting in better information that we can deliver to clients. Previously, limited operating hours during restricted periods of the pandemic negatively impacted access to government records.
Argentina has been successfully vaccinating for Covid and has over 80% of its populace protected against severe cases of the virus. Its economy is generally still, unfortunately, in a state of disarray, while governance there is consistently poor. Corruption and bribery continue.
In Brazil, governors were found to be involved in corruption schemes while purchasing medical equipment to fight Covid. Additionally, our teams in Brazil found a general increase in fraud, including through the internet (phishing) and mobile applications (payment via mobile apps).